The Hurricane of 1938:
Norwich Remembers the Storm of the Century
by Chris Wisniewski
Published by the Norwich Bulletin
An new oral history of the great hurricanne of 1938. Read personal accounts from over 65 residents of Norwich and the surrounds area. See over 60 photographs, many never published before. Experience the storm through the eyes of the people who lived through it.
Read more here . .
Sto Lat - A Hundred Years of the Wisniewski Family in America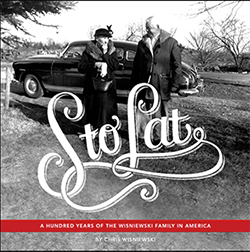 by Chris Wisniewski


Sto Lat documents the way of life of Polish immigrants who settled in Southeastern Connecticut in the first half of the 1900s as told through the stories of the ten children of the Wisniewski family.
Read more here . . .