About Saving Stories
Founder, Chris Wisniewski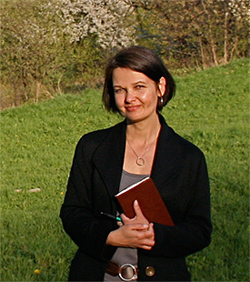 My own story begins with a diverse background in art, design, sociology, anthropology, history, and web design. While at university, I spent time in Flagstaff, Arizona studying and working with members of various Native American tribes. While studying with Navajo teachers, I was introduced to the Navajo belief that there are two types of wealth a person may obtain. The first is the wealth obtained through physical objects, such as blankets, sheep, turquoise, and silver. The second type of wealth came through the knowledge of stories, folkfore, and cultural ceremonies. Both were valued equally among the Diné. It was a concept which resonated with me.
After receiving my degree in American Studies/Minority Issues, I worked for several years in the field of international education as a teacher of English as a Second Language both in Massachusetts and in Guyama, Puerto Rico, "La Ciudad de las Brujas." In 2000 I founded my own web design company, BackRow Design, where I continue to play a role as principal designer.
In 2009 I co-founded Saving Stories, a personal history business, along with Stephanie Nichols. An article about Saving Stories was published in the MetroWest Town Crier in 2011 describing our business. In 2012 Stephanie restructured her own business, yet we remain frequent collaborators. Currently I am based in London, and travel back to New England frequently allowing me to work on projects with families both in the UK and throughout the United States.

For as long as I can remember, I have loved listening to people's stories. My career as a personal historian began about 30 years ago, working with my own family — doing research, asking questions and recording interviews with my extended family about their memories of the past. I am well versed in conducting research from a wide range of records to help round out oral histories. You can frequently find me at the National Archives researching census records, ship manifests, naturalization documents, and alien registration records. I have extensive experience locating records of birth, marriage, and death from a variety of sources. I love researching old newspapers or periodicals or digging through local history collections to locate additional information to support a family's story. Just as every person is unique, the path of research each project leads me down varies, depending on the needs of the family. It's that variety which makes this work so interesting - opening up new doors to illuminate the past.
I am a member of the Association of Personal Historians, the National Aging in Place Council (Boston Chapter), the American Folklore Society, and the Society of Genealogists in London, Britain's premier family history society.
I have become passionate about preserving people's stories. I know the impact saving and sharing stories has had in my own family. I feel so privileged to be able to help others preserve their own stories to share with their family, friends, and generations to come. While I enjoy the challenge of helping families find and document their roots. I also love capturing the stories behind the names and photos. It is by preserving those little details gives we can give life, meaning, and understanding to the names and faces of our past. It is these stories and details that are so often lost from one generation to the next.

With each project, I enjoy finding ways to embrace the unique personality of each individual, family, or organization in the design and layout of their personal history books. My focus on design has always been on producing clean, classic layouts that enhance the stories and personal photographs in a timeless style that will be appreciated for generations to come. You can see examples of the design and layout of my family history books here.
I continue to research my own family. The photo above was taken in Kobyłczyna, Poland. It shows me standing in a field where the house my maternal grandmother was born in once stood. It is a wonderful feeling to be grounded in your own history.

Read a tribute to my father
, who was my own inspiration to start saving our family stories many years ago.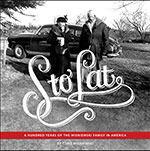 Learn more about my own family history, Sto Lat: A Hundred Years of the Wisniewski Family in America, now on sale.








"I never travel without my diary. One should always have something sensational to read in the train."
― Oscar Wilde