The Hurricane of 1938:
Norwich Remembers the Storm of the Century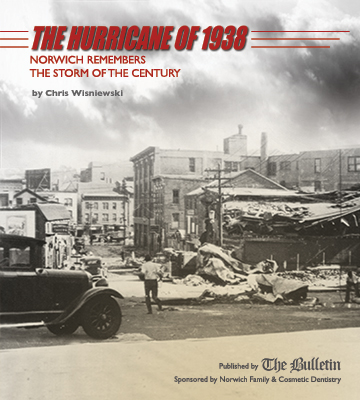 by Chris Wisniewski
Published by the Norwich Bulletin

Price $29.95 + tax and shipping

The storm came without warning. On September 21, 1938 everyone went about business as usual, expecting just another rainy day. By evening Norwich had been battered by 120 mph winds, rivers surged over their banks, and a tidal wave raced up the Thames leaving Franklin Square under 10 feet of water. Bridges and dams washed out. Streets were blocked with downed trees and roofs. The Rose City was devastated. The '38 Hurricane still remains the most destructive storm in New England history.
Chris Wisniewski, and The Bulletin are offering a new book on the 1938 Hurricane. Read personal accounts from over 65 residents of Norwich and the surrounds area. See over 60 photographs, many never published before. Experience the storm through the eyes of the people who lived through it.
"All my life I have heard stories of the '38 hurricane — stories that seemed too crazy to be true. I assumed these stories must have been embellished over the years. After all, storms that powerful don't hit New England. In 2013, as the 75th anniversary of the storm approached, the opportunity presented itself for me to collect the stories of as many people as I could find who still remembered the storm. The people of Norwich and the surrounding towns responded by sharing the amazing stories and photos with me. The more people I interviewed about the storm, the more I understood that all those crazy stories I had heard years before, were actually true. It was such a wonderful experience to collect these stories and I'm pleased to be able to offer them together in this book."
— Chris Wisniewski


Book specifications:
- hardcover
- Trim size 8.5 x 9.5 inches
- 150 pages
- over 60 black & white photographs, many never published before





"I was impressed with your book. Many books (on the 1938 Hurricanne) have a few stories of survivors, but not nearly as organized and devoted purely on eyewitness accounts as you have produced. You may have the best witness account for the 1938 Hurricane for one region. There are a few books that go in further depth, but at most, they only cover a few families. Nothing compared to what you have done here. It would be nice if there were more books of this nature."

— Nick F. Panico III
founder of TARC (Tropical Anonymous Rehab Center)
TARC provides constant tropical weather and forecast updates relevant to tropical cyclones in the Atlantic basin.