Now on Sale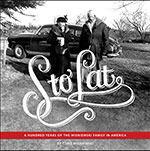 Sto Lat - One Hundred Years of the Wisniewski Family in America.
An oral history of Polish immigrants in southeastern, CT in the early 1900s.
Learn more here
My Dad
My dear father, Ed Wisniewski, passed away on March 27, 2013. He was an incredible man in so many ways. He spent 91 years embracing life and encouraging those around him to do the same.
I feel so fortunate to have been able to spend a great deal of time with my dad over the past several decades talking about family history. He loved sharing his stories and knowledge—and he was such a good storyteller. His speach was colored with vivid descriptions and wonderful old-timey phrases. And if I ever got a bit of story wrong, then "you betcha'" he would help me adjust it "just a whisker," until it was right. He did even more than just tell me stories. He drew me maps and diagrams to help me visualzie and understand what he was talking about. He made me things. One time he mentioned that when he was little he used to make slide whistles out of a piece of tree branch in the spring. Then a few months later, when the weather conditions were just right, he took me out in the woods and made me one. We went on excursions together—walks around his father's farm, drives around town to show me where things were or used to be. One of his favorite things was to get together with any of his nine siblings and to sit and reminisce.
One of the last times I spoke to my dad I was honestly able to tell him, "Your stories are safe with me." Thanks to him, I have a 250 page book filled with stories about our family going back a hundred years. It is my gift to him that I can share his stories with his grandchildren and great-grandchildren. It was his gift to me to be so gracious and enthusiastic in helping me get the stories right.
Below is an obitaury I wrote for my dad. I tried to keep it to two pages—I could have gone on and on.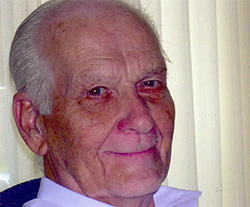 Edward Henry Wisniewski
passed away on March 27, 2013 at home in Preston, just a stone's throw from the farmhouse he was born in 91 years ago. The son of Władysław and Dominica (Rutkowska) Wisniewski he was born on April 30, 1922.
Ed attended the Palmer School, a one room school house in Preston, through the eighth grade. He spent his childhood with his 5 brothers and 4 sisters, helping on the family farm, hunting, trapping, and swimming. For fun he and his brothers built a pond by hand, ordered pet foxes through the mail, and made their own cigarettes out of oak leaves; it's a wonder he lived as long as he did.
He continued on to Norwich Free Academy. His last day of school was the day of the 1938 hurricane. He recalled taking shelter under a neighbor's barn during the storm and having the whole barn blow right off its foundation right over him. The storm did such damage on his family's farm that Ed decided to leave school to help with the cleanup and rebuilding.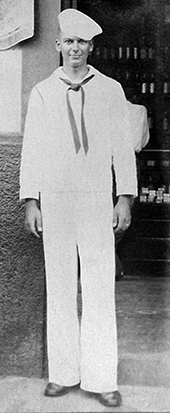 In WWII Ed proudly served in the Navy from 1944-1946. He was stationed on board The USS Pasadena which patrolled the Pacific and shelled Iwo Jima for two weeks prior to the landing of the Marines. In December, 1944, he lived through one of the worst recorded typhoons in naval history with winds up to 185 miles per hour for days at a time, and waves washing planes off the 75 foot high deck of the ship. Ed said, "I never knew the water could get so riled up as that. It was scarier than the battles. We couldn't fight that thing."
Ed returned home to Preston where he met Betty Banas of Norwich at a dance at Polonia Park. Ed and Betty married on November 22, 1947 and they raised six children together in Preston. He was a wonderful husband to Betty for over 65 years. He routinely picked flowers for her from their yard, filling vases all over the house. Right up until the end he could still often be caught holding hands with his "girl".
Ed went to work at the American Thermos Company sweeping the floors as a teenager. When he retired 42 years later, he was the head of the Experimental Machine Shop. His years in the machine shop gave him the ability to fix or build pretty much anything his family needed and in his retirement Ed became an accomplished clocksmith.

Ed was the best father, grandfather, and great-grandfather. He passed along the things that were important to him: the value of education, hard work, self-reliance, pride in his Polish heritage, and an appreciation of the beauty in the world all around us.

Despite having only one year of high school education, Ed had a lifelong love of learning. He and Betty worked hard to ensure that all six of their children received a college education. He had an endless curiosity and appreciation of nature and made careful observations of his beloved woods. He made notes on how cold it is when rhododendron leaves start to curl. He observed the territorial and eating habits of birds in his yard, and he was a bountiful gardener.
He enjoyed travel. Ed said the best thing about being drafted into WWII was he got to see places he never would have in his life. He enjoyed seeing the different ways people live and it gave him an appreciation that "Everybody's got their own way of doing things," and that's just fine.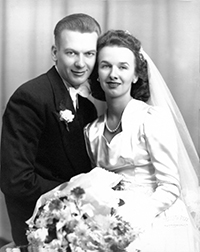 Ed loved music and dancing. He got a kick out of blasting the weekly polka show on the radio, which always gave him a spring in his step. At a recent family wedding, his daughters and granddaughters all stood in line waiting for their turn to dance with him in his top hat and tails. No one was better at spinning a partner during a polka than Ed.
Ed was always looking to make a connection with people. One of his sons-in-law gave him a hat with the USS Pasadena on it. He loved how many conversations that hat could start; someone was always coming up to ask him about the Navy. While going through chemo treatments, he would be looking for other patients he could cheer up, or teasing the nurses, and joking with the doctors. Whether it was learning something new, licking a plate clean after a slice of homemade pie, or spending time with his family, you could tell Ed truly loved life, "You betcha!"
Ed is survived by his wife, Elizabeth, of Preston, six children, Richard Wisniewski and his wife, Terry, of Norwich, Edward Wisniewski and his wife, Barbara, of Bozrah, CT, Marianne Byrne and her husband, David, of Prospect, CT, Kathleen Jaycox of Carbondale, CO, Susan Wisniewski of Beacon, NY, and Christine Wisniewski and her husband Paul Greenspan, of Sudbury, MA. Ten grandchildren and four great-grandchildren. One sister, Martha Janciewicz, of Norwich. Two brothers, Paul Wisniewski of Fort Meyers, FL and Walter Wisniewski of Preston.
In lieu of flowers, memorial donations may be made to The Wisniewski-Banas Scholarship at the Norwich Free Academy Foundation, Inc. at 321 Broadway, Norwich, CT 06360. The donations will be used towards a scholarship established in Ed and Betty's name.
"Do it while you can."
— Ed Wisniewski