Saving Stories
Saving Stories is a personal history service dedicated to preserving your memoirs, milestones, and personal history. Everyone has an interesting story to tell, and we can help you ensure that future generations can share your story.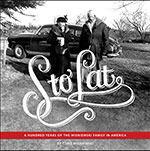 Sto Lat: A Hundred Years of the Wisniewski Family in America.
An oral history of Polish immigrants in southeastern Connecticut in the early 1900s,
now on sale.
Read more . . .
We work with individuals, families, businesses, and non-profits to produce hardcover and paperback books printed on archival paper with your stories and personal photographs.
By preserving your own personal history, you can create a family treasure for future generations. The stories of your life will be a meaningful gift for your family, friends, and others - a way to record your legacy and share your stories with future generations.
"This is probably the best present I could have given my father for his 80th birthday. He is truly enjoying his time working on this project! It will be a great legacy for the family."

— Amy M.
The process of creating your memoir also provides you with a meaningful opportunity to reflect on your life. It allows you to pause and make sense of the past. You may become aware of patterns and trends in your life: Who has influenced you the most? A defining moment that was a pivital point in your life where a decision sent you down a path which shaped the rest of your life? What lessons have you learned from the obstacles you have had to face? What insight would you like to pass along to your children and grandchildren?
Many of our clients fit one of the following profiles:
An individual motivated to tell and share their own stories;
Adult children who would like to preserve their parents stories along with the legacy of earlier generations;
Businesses or non-profit organizations interested in recording the history of their business or organization;
People of any age who want an unforgettable gift for a milestone birthday or anniversary, or who would like to memorialize a loved one so his or her stories will live on.
Each personal history project is unique. You may fit into one of the categories above or you might have a very different story. We would be happy to offer you a free consultation to discuss the options to create an individualized project to fit your needs.

We look forward to working with you to preserve your own memoirs, milestones, and personal history.




Saving Stories is a member of the American Folklore Society, the National Aging in Place Council, and the Society of Genealogists, London, England.


"We tell stories to continue ourselves . . ."
— Ken Burns, The Art of Storytelling